There is a whole lot to love about this suite!  It was one that captured my attention right away when the new catalog came out!  This is perfect for a wedding or a baby card!  Every piece  in the Bundle of Love Specialty DSP has a side with gold foil.  It is so elegant looking!
The NEW 3/8″ ribbon with the metallic edge is another beautiful thing in this suite!!!  Pictures do not do it justice!  I'm also excited about the mini sequin trim.  It is adds a lot of fun and elegance as a card embellishment!
Thank you to everyone who came out to our annual retired stamp sale yesterday! We had a great turn-out and a steady crowd.  As a team of demonstrators yesterday, we sold over $2700!!! Thank you for helping us clear out our stamp rooms, to make room for the new!
There will be another multiple demonstrator stamp sale on Sat., Aug. 19 in Mt. Prospect, IL.
Stay tuned for more details.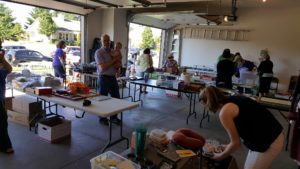 Winner from yesterday's drawing:  Susan Corsello
Susan is going to receive the hand-stamped Bundle of Love card show above.  When I send out cards, I don't sign the inside; that allows you to use the card when needed.
NOTE:  To leave a comment on my blog, you will need to click on the title of this post, "Day 25 – "Bundle of Love Suite" and then the section to leave comments pops up at the bottom of the blog entry. – Thanks!
Reminder that my next Virtual Party is Weds., 6/28/17 at 7:30 pm CST on my customer Facebook group:  Stampahowlic Stampers
If you are not already on my Facebook group, I have included the link below to join.  I will be giving away some NEW product.  🙂  I will also be showing off some retired items before they go on the retired virtual sale.  In other words, you will get first dibs at a discounted price!!!
https://www.facebook.com/groups/1402518233343183/
Enjoy the rest of your weekend!