Paper Pumpkin (PP) is the monthly subscription that comes to your door! It is a surprise each month.  June's subscription includes both cards and bags.  PP makes a great gift because it includes everything from ink, stamps, paper and embellishments.  The only things you would need to add are a pair of scissors and adhesive.  PP is also great for the new stamper to get them started.  It is only $19.95 a month and that includes shipping.  After you are a subscriber, you can easily go back and order refills for past kits for only $8 (it will not include ink or the stamp set, because you will already have it from the initial kit).
There is also a Facebook group for alternative ideas on how to use your kit each month.
There are one, three, six and twelve month subscriptions available.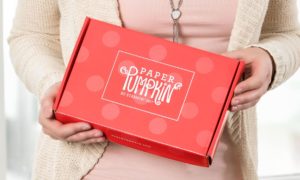 creating your paper pumpkin account
1. Go to PaperPumpkin.com and click one of these three links:
Join Today" (middle of the page)
Join" (top right of the screen)
Subscribe" (top middle of the screen)
2. Enter a promo code or a prepaid subscription code (if applicable). You also have the option to add extra kits under "Order Additional Kits." Click "Continue."
3. Enter your general information and click "Continue."
4. Enter your payment information and click "Continue."
5. Select a demonstrator.
You will receive an email that invites you to come back to the site to create a password. You will need that if you ever want to change your information, skip a month, or cancel Paper Pumpkin kits. That's it!
Winner from yesterday's drawing:  Susan Corsello
Susan  will receive a  super cute FISH hand-stamped card.   When I send out cards, I don't sign the inside; that allows you to use the card when needed.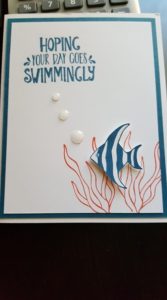 NOTE:  To leave a comment on my blog, you will need to click on the title of this post, "Day 21 – "Paper Pumpkin" and then the section to leave comments pops up at the bottom of the blog entry. – Thanks!