#956 – 3D Fall Giftable – Weds., 9/16/2020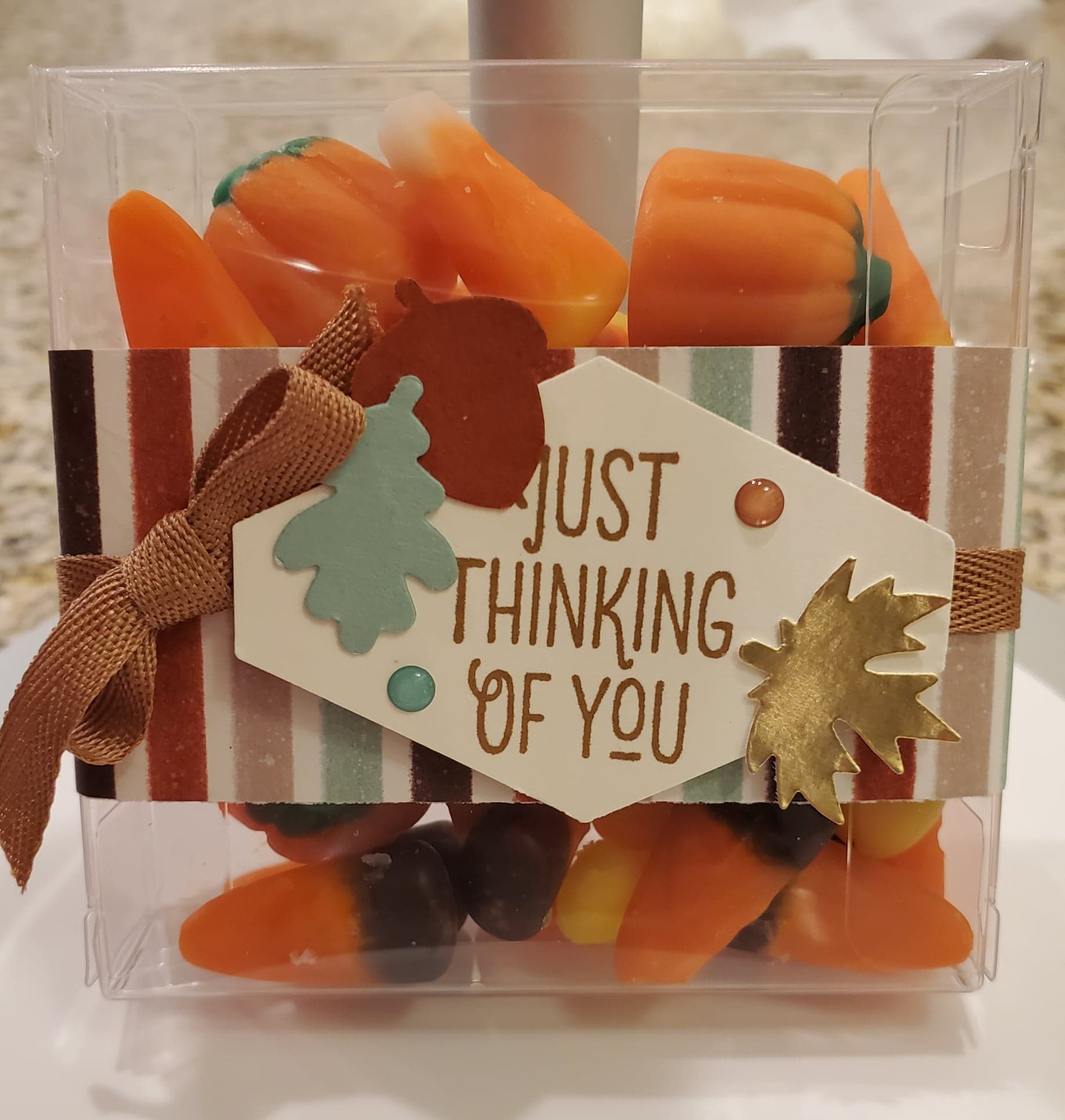 This is the 3D giftable that I shared on FB Live on Tuesday night.  One of my favorite parts of being a SU demonstrator is making fun and unique gifts for friends and co-workers.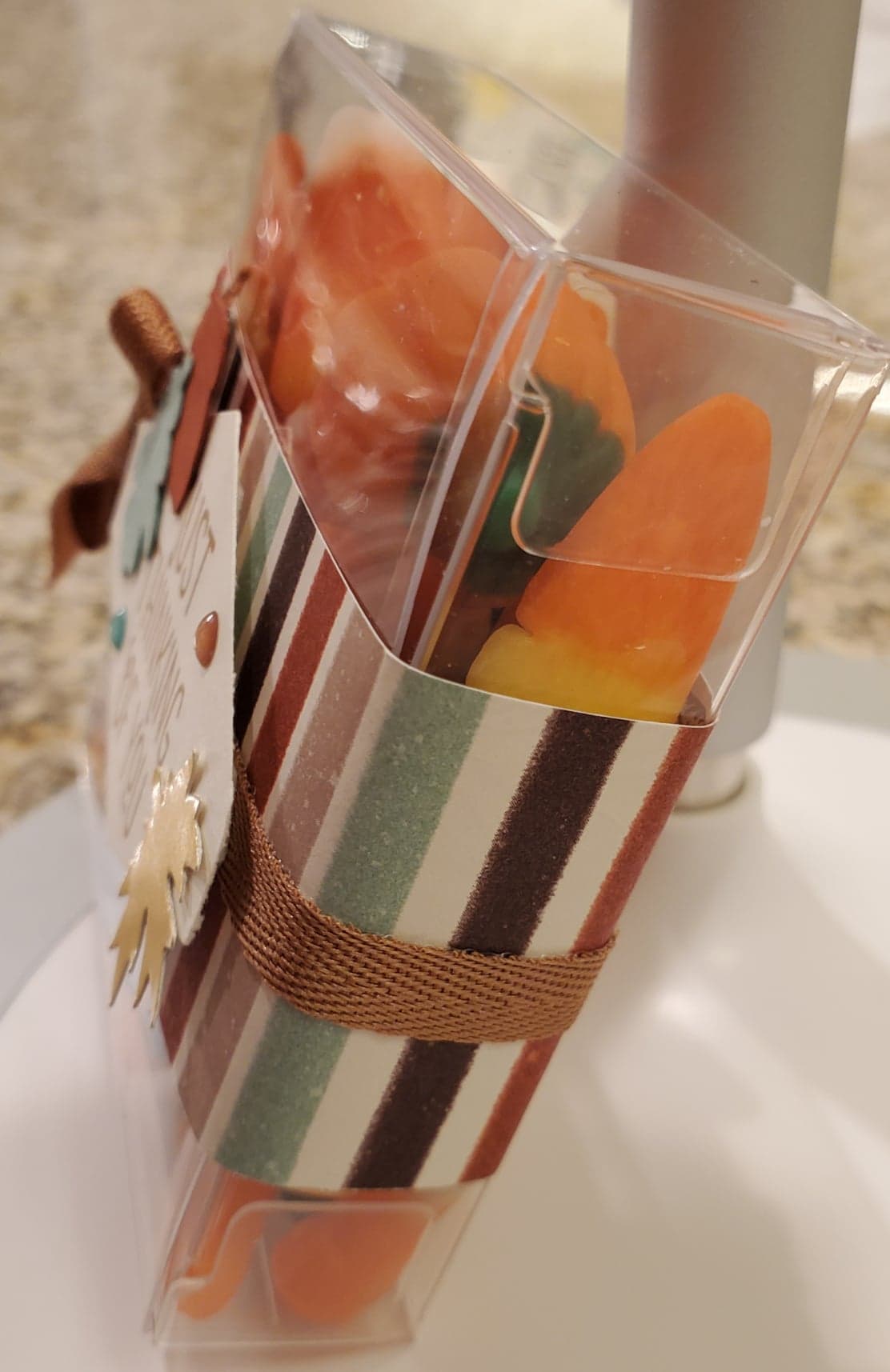 3D Fall Giftable
Stamp Set:  #152633 – Many Mates (p. 43 AC) – $23.00
Bundle with punches:  #155189 – Autumn Bundle – $50.25 (p 45 HC)
Ink: Cinnamon Cider
CS:  Very Vanilla, Mint Macaron, Cajun Craze, Gold Foil
DSP: #153520 – Gilded Autumn Specialty – $15.00 (p. 45 HC)
Cut Strip:  1 ½" x 9"
Punch:  #145667 – Tailored Tag – $18.00 (p. 166 AC)
Ribbon:  #153553 – Basket Weave & Metallic Ribbon Combo Pack – $8.00 (Length17")
Acetate Card Boxes:  #150428 – $6.00 – qty. 10 (p. 152 AC)  Holds 3" x 3" cards or treats
In-Color Enamel Dots 2020-22 – #152480 – $8.00 (p. 158 AC) 100 pieces
Accessories:  Dimensionals, Glue Dots,  Take Your Pick Tool, Bone Folder

UPCOMING EVENTS – 2020
*Note: Facebook Live every Tues. night 6:30 pm CDT
FB Group: Stampahowlic Stampers – Customers


In-Person Events held out of my home at:
1028 Benbrook Drive, Loves Park, IL – Central Park Subdivision
Off of Orth Road
Please note the following in-person events are tentative based on COVID-19 safety. If there is a continued concern, the in-person classes will convert to porch pick-up or mail-out options.

StampaStack/Card Buffets:
Sat., 9/19
Sat. 10/10 – SPECIAL EVENT – 25 year anniversary party
Sat. 11/14
Sat., 12/12
Two times to choose from: 9 to 11 am & 11 am to 1 pm
Cost: $25 for 12 cards (2 each of 6 designs of your choice)
*Note: Each additional card = $2
StampaHOWLic Team – Virtual Party
Monthly Team Demonstrations shared online
9 am – Noon Short demo every 15 min.
Door prize after every demo
Open to everyone, demonstrators and customers both
Sat., 9/26
Sat., 10/24
Sat., 11/21
Note: You do not have to be present to watch. All of the videos will be done using FB LIVE, so you can go back and watch them at your convenience. Also, note that the FB group is quiet/inactive in between the monthly demonstrations.
SPECIAL EVENTS
Tues., 10/13 – 6:30 – 7:30 pm
Special hour long FB party to celebrate my 25th year as a SU demonstrator
Games, demos & door prizes
"Get & Go" Starter Kit Promo Ends – 9/30
-Starter kit $99 (choose $125 worth of merchandise)
-2 bonus stamp sets & pre-cut supplies to make 16 cards
Stamp Sets: Queen Anne's Lace & So Much Love
-FREE shipping
-Minimum 20% discount
-Pre-Order new SU product early
-Attend SU events
-FUN
Virtual Opportunity Party – Sun., 9/20
2 pm CDT
We will share demos using the BONUS stamp sets and answer any questions you might have. Door prizes!!!
Message me and I will send you information for the link to join the event!!!
If you have questions about any of the events, please let me know.
Winner for today's drawing is:  Ruth Sherer
Look for happy mail!!!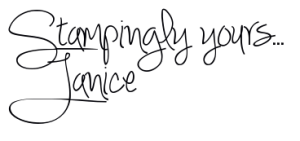 Join
my StampaHOWLics Group!
Shop
Now!
Request a
new Stampin' Up! Catalog