Card Buffet – April 16-17, 2021
Make 12 cards/projects – $25.00
You choose which cards and the quantities you want to make.
If you wish to make more than 12 cards, it is $2 for each additional card.

Four times to choose from (Limited to six people per class):
Fri., 4/16 – 10 am to Noon or Noon to 2 pm
Sat., 4/17 – 10 am to Noon or Noon to 2 pm

Deadline for registration: Sunday, 4/11/21.
Cost:  $25 General Registration and Curbside Pick-Up
$30 – Mail Option
*Note: Mail Option & Curbside pick-up will not have stamping.
Curbside & Mail In Option will be available for mailing & pick-up the weekend of 4/11/21.
Where: 1028 Benbrook Drive – Loves Park, IL
Central Park Subdivision/Off of Orth Road
Bring: Adhesive & refills
Note: Cards with DSP may vary in pattern from the sample shown.
Cards were inspired from swap cards received.
A – Janice Weightman
B – Unknown
C – Joyce Feraco
D – Ann Clemmer
E – Lisa Lange
F – Natalie Travis
G – Karen Titus
H – Lynn Feldkamp
I – Janice Weightman
J – Unknown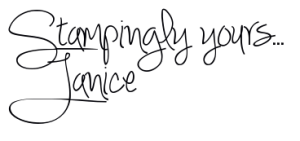 Join
my StampaHOWLics Group!
Shop
Now!
Request a
new Stampin' Up! Catalog