One of the number one requests I have from customers is for more "manly" cards.  This month's Paper Pumpkin is perfect!!!
Father's Day is right around the corner, and the rumor is—shopping for dads is tough. How many pairs of socks or barbecue spatulas can you buy? Well, we've got good news! Whether your favorite guys are sports fans or outdoorsmen or techie nerds, they'll never tire of getting a handwritten "I love you" in big, swirly letters on their special day, especially inside a card made by you.
So. Check. Out. This. Kit. Have we got you covered for "man cards" or what? Yep, the design is bold and daring (just like all of those sweet guys in your life). The die cut stickers? You're going to love layering the trees, lake, and mountains—which means refills are a must. Time to get to work on these rugged, manful cards? Yes! Watch the video now and get a jump on Father's Day by creating your cards today!
Click here to watch a short two-minute video featuring the May Paper Pumpkin kit
It is awesome!  My dad reads my blog, so he will get a different card, because I want him to be surprised for Father's Day.  Lots of versatile greetings:  Thank You, Happy Birthday,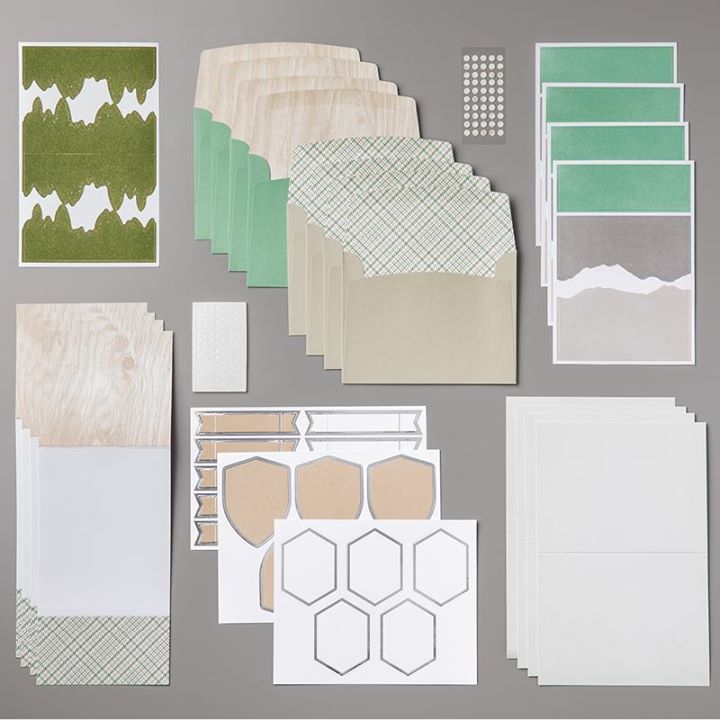 Kit Features – $20 (that includes shipping)
Each Manly Moments kit comes with 10 card bases, 10 printed envelopes, 3 sheets printed silver foil die cuts, 1 sheet printed laser-cut elements, 5 sheets printed die-cut stickers, and 125 dimensionals. And don't forget the exclusive stamp set and Mossy Meadow ink spot!
Kit Refill kits (just includes the consumables-see above) – $8
Because this is a masculine kit, and it is rare, rare, rare—like finding a meteorite in your backyard . . . you'll want to stock up, and fast. And they're a steal at $8.00  Buy yours today!
Here are some alternative kit ideas: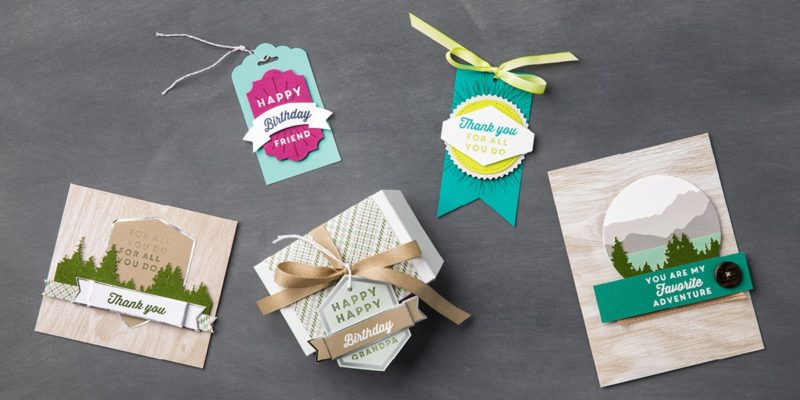 This month's alternate projects are a piece of cake. In fact, if you really focus, you could probably kick out these projects in an hour . . . watching baseball on TV with your manly man!
The Thank You card featuring the tree silhouettes was made entirely from May kit elements—it's so cool, so woodsy-looking, and so easy to make. The beautifully masculine "Happy, happy birthday Grandpa" box (which cleverly uses the plaid kit envelope liners) was crafted from
Sahara Sand Cardstock
, kit elements,
Crumb Cake 3/8″ Classic Weave Ribbon
, and
Very Vanilla Solid Baker's Twine
. Finally, the "You are my favorite adventure" card was amped up using a
Tranquil Tide
tag,
5/8″ Burlap Ribbon
,
True Gentleman Buttons
, and
Layering Circles Framelits Dies
. You'll want to give this one to your guy after you've just been camping in the wilderness and hunting moose . . . something like that. Just kidding. (We don't even know if you're allowed to hunt moose!)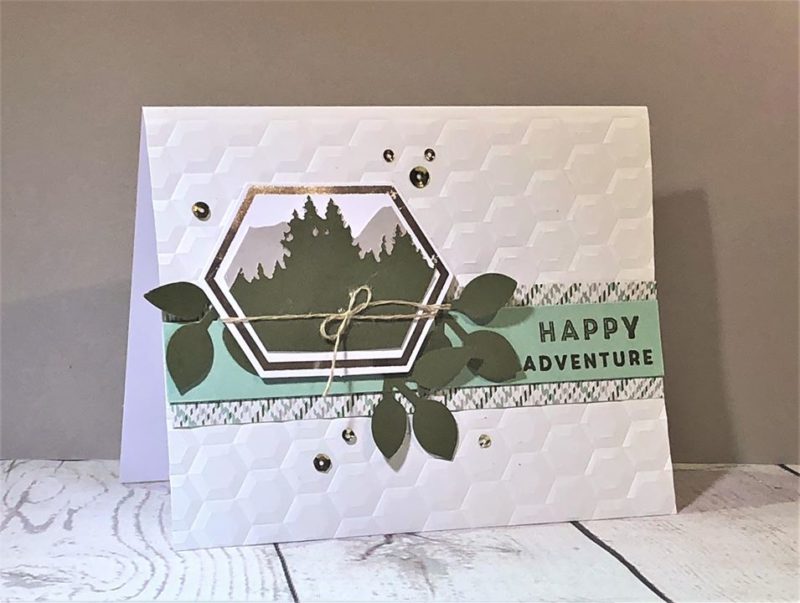 Above card created by Debbie Henderson 5/14/2018
"I love creating masculine cards and when I spied the cute foil-embossed layer, I knew I wanted to use it to create a tiny scenery with the sticker sheets and just a few snips of my scissors. So many possibilities with all of the layers in our box this month!"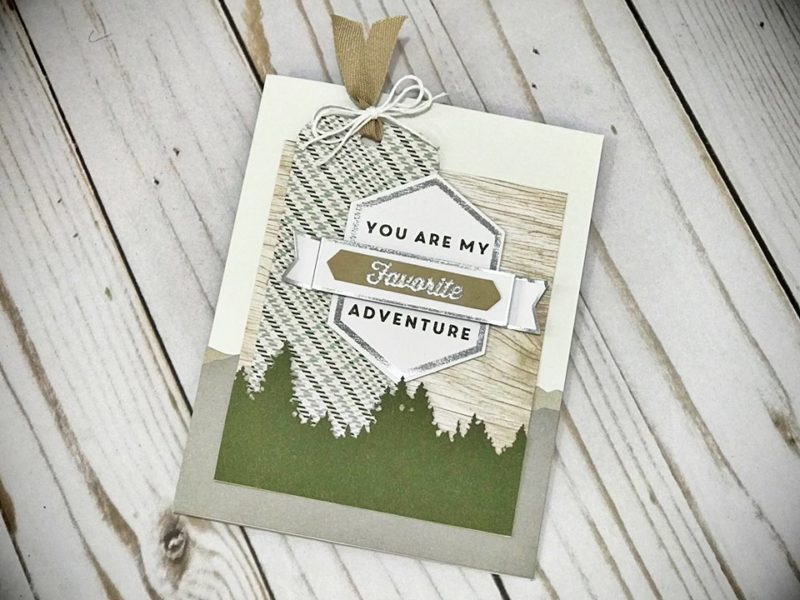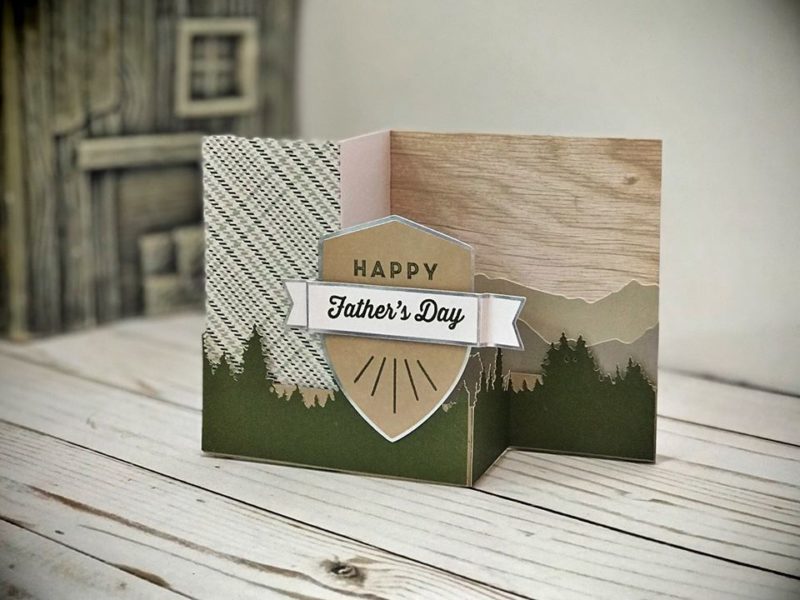 Above cards created by Andrea Tucker 5/18/2018
"This month's kit was a real challenge for me. I don't often make masculine cards "on purpose." After playing with the kit for a couple of hours, I somehow came up with two alternative cards without having to freak out about the masculine nature of the kit. I did a fun square double z fold card for Father's Day using only stuff from the kit and a scrap of
Crumb Cake Cardstock
. My second card was just a fun layout option using the new Detailed Trio Corner Punch (available June 1) to make my fun tag!"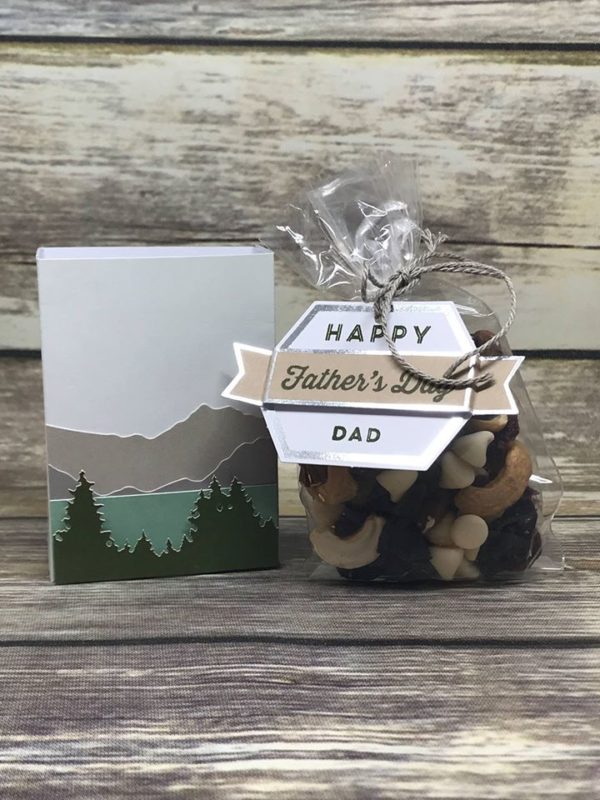 Above projects created by Daune Cotter 5/18/2018
"I made an alternative item using the Manly Moments Paper Pumpkin kit. I had fun and was so excited (and proud) of my project. Hopefully others will think it's fun and worth a try. I do try to stay simple and I know that everyone wants cards, but I have made my card into a treat box."
"I used the regular card base and placed the 5-1/2″ side on my
Stampin' Trimmer
and scored at 1-1/2″ and 4″. I then turned the card base and scored at 3-1/2″ and 5″ on the 8-1/2″ side. I cut the notches and placed tear tape as shown. For the tag, I used the
1/8″ Circle Punch
and leftover twine from the You Are My Anchor Paper Pumpkin kit."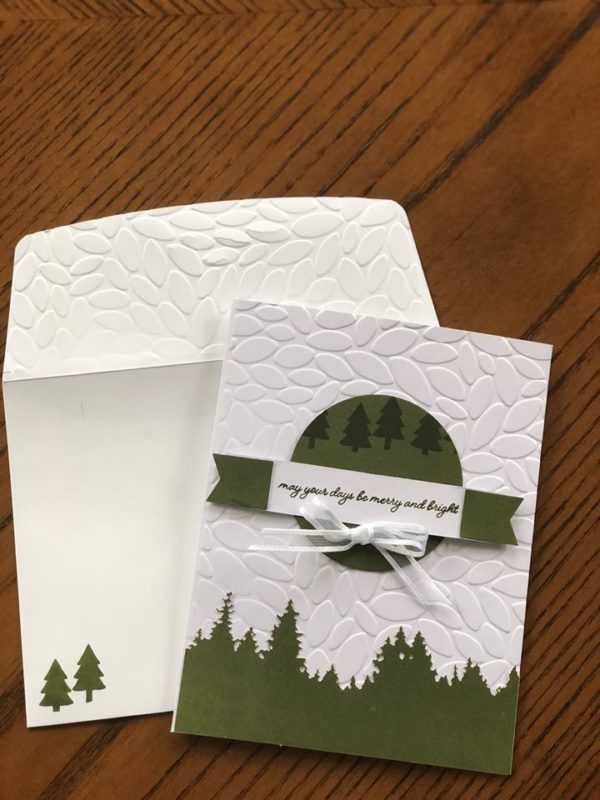 Above cards created by Deb Naylor
"This card makes the perfect gift cardholder! Just glue down the side of the bottom flap . . . easy-peasy! The Stamparatus made lining up the sentiment a snap, too!"

"When I opened the kit and saw the trees, I saw Christmas! Mossy Meadow screams Christmas to me! The sentiments and trees are from the November 2016 kit."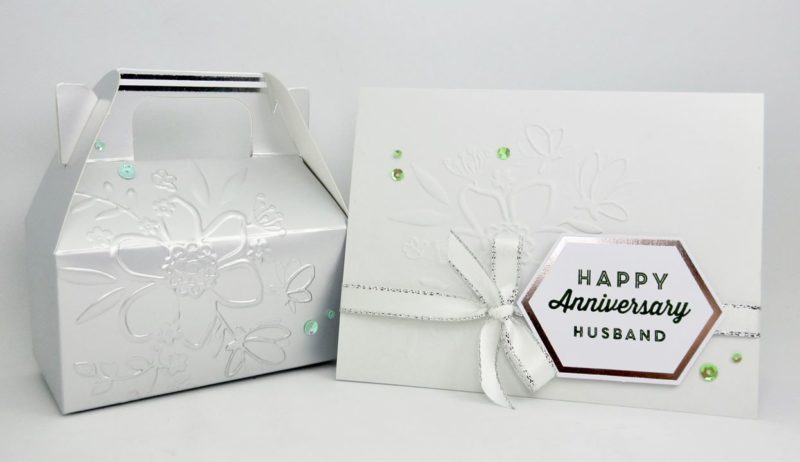 Above projects created by Rachel Tessman 5/20/2018
"I love to see how I can make a project have a totally different look than what is expected with the elements of a kit. I added sequins from the
Iridescent Sequin Assortment
,
Silver 3/8″ Metallic-Edge Ribbon
, and the Lovely Floral Dynamic Textured Impressions Embossing Folder from the
Share What You Love
suite to give this card a "feminine flair." The muted Soft Sea Foam-colored card base is gorgeous with the green sequins and really makes the stamped sentiment stand out. I also thought this anniversary card needed a pretty gift box, so I embossed a
Silver Mini Gable Box
and added blue sequins and the blue tissue paper from the Paper Pumpkin box."
They also make great gifts!!!
Here are the different ways you can subscribe (all prices include shipping)
1 MONTH –$20  – Item #137858
3 MONTHS – 
$59 – 
Item #137859
6 MONTHS – 
$114

 – 

Save $1 Per Month – 

Item #137860
12 MONTHS – 
$215

 – 

Save $2 Per Month – 

Item #137861

Winner of today's drawing is:  Susan Corsello
Look for happy mail!!!